L'Oursimière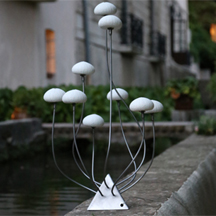 Oursimière at chateau Peiresc
Nine branches spring from the pyramid base of this lamp, 3 from each of the three faces, their length varying from 0,7 to 2,3 ft and their diameter a delicate 0,24 in. The set has a height about 31,5 in. and a 19,7 in. width. At the end of each branch, a 10-watt halogen bulb lights up the head of the sea urchins. A surface treatment of the pyramid base and 9 steel branches protects the steel from corrosion.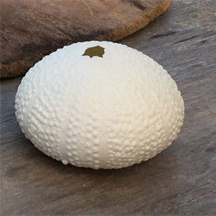 Sea urchin made of porcelain
The sea urchins are now in porcelain lithophanique. This process allow to obtain varied effects of transparency in the porcelain. Sea urchins are cooked at 1260 C ° during 7 h that returns them perfectly resistant to a rise in heat due to the lightning. Magnets are stuck on their base to increase their stability.